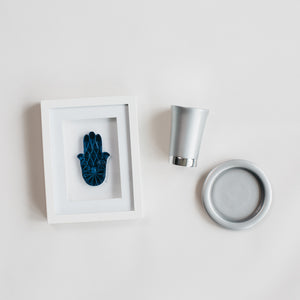 Justine Kuran is a Melbourne-based quilling artist specialising in symbols created using vibrant colours and intricate designs. 
Here she conjures the hamsa talisman, considered by ancient Jewish communities to protect against the evil eye and bring good luck and fortune, to create a modern work of art. 
Available in a variety of colours, each artwork comes encased in a white bucket frame. 
Pictured with Yair Emanuel's silver kiddush cup.