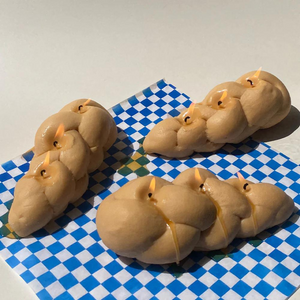 The challahdad bread candle is a replica of the mini-mensch challah. 

Do a good jobbis and bring this home for shabbos. Scented with essential oils – in this case, it's a delicious smelling cinnamon and vanilla scent. 
Product details:
Dimensions H: 2.5" W: 7.5" D: 3.5" 
Made with 100% Soy Wax. Hand poured in Los Angeles.
This candle is designed for decorative purposes. If you do choose to light them, please place on a heatproof dish to collect the wax and do not leave unattended.